Home » Fitness
PHASE 3: 30-Day Advanced HIIT Challenge – Day 29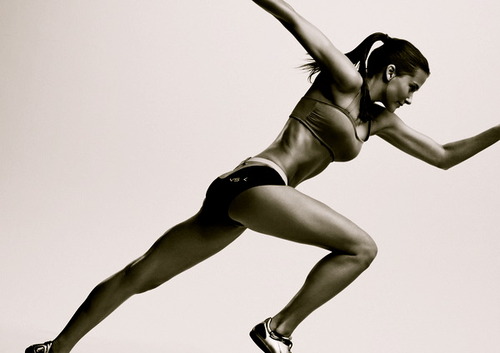 Narrative: (Duration – 117:26 mins) →  My Run Log
Oh yeah – bring the friggin' pain again!  If y'all don't know – 420 Burpees along with a few 6-count Body Builders aren't a cakewalk at all.  One day away from completing this challenge, I literally, for the first ime, had to extend my rest period.  This was a demanding workout – but was nonetheless character building.  Specifics: Did Burn Baby Burn HIIT movements as indicated below (87:26 mins) – This was supposed to be a 57 min workout plus cardio, but after about 3 rounds, I knew I wasn't gonna just sprint through it.  I thought about cutting the number of reps by 1/2 to 5, but I have not compromise thus far in this challenge and 1 day before the end, I had to push through – thus, the extra time.  And guess what – no shame in the game yo.  Afterwards, I moved to 30 mins on the Elliptical – 19° incline/71-79SPM/Level 1.   Motivational music – Still another day trying to work out the music portion of my workout.  I am streamling all my music that I used for workout in the past and realizing that some work as good motivators still, while others have just lost their effect.  Today, I listened to some Reggae – (Buju Banton, Dana KIng) and some Eminem and DMX (always on point), but  my earphones are in for warranty replacements right now, so I had to keep the music down on my speakers, due to the colorful nature of DMX and Eminem's words, so I couldn't get the pumped up effects.  At any rate, tomorrow is the final day of this challenge and I must admit – I am feeling a bit nostalgic – it really was a good process.  I will make my final measurement tomorrow, after my workout – need to ensure I work off all my water, and before my first meal.  That's it for today – only 1 more days to go.  Good livin'…lean forward and keep movin'.
Update – 7/7/2015:
Just revisit my workout and realized that I actually worked out at Level 2.  So while I would be able to workout at Level 1 (5 rounds) with some effort, it would not have been has intense as it felt, working out at Level 2. I feel much better now about the whole thing.  Can't wait to get started on my next challenge.  Oyeah!
MEAL PLAN
1

 

2

 

3 
 4 
DAY 29
Frittata 

✅

Chicken Wrap 

✅

-will update
-will update
30 DAY ADVANCE HIGH INTENSITY INTERVAL TRAINING CHALLENGE
 D29 –

Burn Baby Burn

  
D30 –

Need for Speed  

Rest

Rest

Rest

Burpees: 180sec/1/5 

✅

Knees Strikes: 20sec/1/10
Rest
Rest
Rest
Exercise 2
Lunge Step-Ups: 20sec/1/10
Rest
Rest
Rest
Exercise 3
High Knees: 20sec/1/10
Rest
Rest
Rest
Exercise 4
Exercise 4
Rest
Rest4
Rest
---
---
METRICS
Cardio  (Elliptical/Treadmill): 30 mins
Intensity (1-10) [159 = 85%; 183 = 100%]: 9.0 
Total Calories: 2548
GOALSTATISTICS
Weight (Day 1, 15, 30): 186.4 LBS; 181.4 LBS   (Goal: 175-177)
Total Distance: 97.49 (94.37 + 3.12) miles (Goal 90 / + 7.49 over)
Total Calories: 51,673 (49,125 + 2548) (Goal 37,000/ +14,673 )
WORKOUT MIX OF THE DAY–

---
Various  (RockMyRun) – Stop automated music at bottom of browser and "Click Graphic below"
WARNING: IF YOU ARE A MINOR (UNDER 18 IN MOST STATE) DO NOT GO ANY FURTHER.  ALSO, IF YOU ARE OFFENDED BY EXPLICIT LYRICS, STAY AWAY – OTHERWISE GO AHEAD…ENJOY! 
The Twerk Out

Various

44:19

Hustle Hard

Various

1:04:00

Club Cardio Summer

Various

2:00:49

Blazin (RockMyRun)

Various

1:00:22

Super Twerk (RockMyRun)

Various

02:00:49

Workout Madness 3 (HipHop MegaMix)

Various

01:49:14

Workout Madness 4 (HipHop MegaMix)

Various

01:29:21

Workout Madness 5 ( HipHop MegaMix)

Various

01:03:03

Workout Madness 6 (HipHop MegaMix)

Various

01:49:51

Workout Madness 7 (HipHop MegaMix)

Various

01:27:59

Guru's Jazzmatazz Vol. 1 (Experimal Fusion)

Baldhead Slick

44:15

Guru's Jazzmatazz Vol. 2 (The New Reality)

Baldhead Slick

71:59

Guru's Jazzmatazz Vol. 3 (Streetsoul).mp3

Guru - Baldhead Slick

62:32

Guru's Jazzmatazz Vol. 4 (Jazz Messenger)

Guru - Baldhead Slick

56:02
---
30 DAY ADVANCE HIGH INTENSITY INTERVAL TRAINING CHALLENGE
 D25 –

1&1 Workout

  

✅

D26 –

Jacks 

✅

D27 –

Power Burn

 

✅

D28 – 

Another Hot Landing

 
FREE
Fly Steps: 60sec/1/3
Jacks: 120sec/1/10
Push-ups: 4 x 2 x 10
Squats: 20sec x1x15
FREE
Toe Tap Hops: 60sec/1/3
Exercise 2
Punches: 40sec x 6 x 10
Jumping Squats: 20sec x1x15
FREE
Lunge Step Up: 60sec/1/3
Exercise 3
Exercise 3
Exercise 3
FREE
High Knees: 60sec/1/3
Exercise 4
Exercise 4
Exercise 4
FREE
---
30 DAY ADVANCE HIGH INTENSITY INTERVAL TRAINING CHALLENGE
 D21 –

Skier

 ✅
D22 –

Rocky 

✅
D23 –

Power Burn 

 
D24 – 

Total Burn

 
FREE
Skiers: 30sec/1/10
Jab + Jab + Cross: 180sec/1/10
High Knees: 30sec/2/10
Side Leg Raises: 30sec x1x15
FREE
Skier Hops: 30sec/1/10
Exercise 2
Jumping Lunges: 30&15sec/2/10
Speed Bag Punches: 30sec x1x15
FREE
Reverse Skier Lunges: 30sec/1/10
Exercise 3
Exercise 3
Exercise 3
FREE
Skier Half Jacks: 30sec/1/10
Exercise 4
Exercise 4
Exercise 4
FREE
---
30 DAY ADVANCE HIGH INTENSITY INTERVAL TRAINING CHALLENGE

 

D17 –

Shredder

 

✅

D18

 –

Combo HIIT 

✅

D19

 –

Power Burn 

 

✅

D20 –

 Total Burn

 

✅

FREE
High Knees: 20sec/1/10
Toe Tap Hop: 40sec/1/10
Push Ups: 4sec/2/10
Side Leg Raises: 40sec x1x15
FREE
Climbers: 20sec/1/10
Speed Skater Slide: 40sec/1/10
Side Arm Raises: 60sec/1/10
Side-to-Side Chops: 20sec x1x15
FREE
Basic Burpees:20sec/1/10
Exercise 3
Raised Arm Circles: 60sec/1/10
Exercise 3
FREE
Exercise 4
Exercise 4
Exercise 4
Exercise 4
FREE
---
30 DAY ADVANCE HIGH INTENSITY INTERVAL TRAINING CHALLENGE
D13 –

Burn Baby Burn

 

✅

D14

 –

Hopper 

✅

D15

 –

Flappy Bird 

✅

D16 –

 Stepper 

✅

FREE
Jumping Jacks:180sec/1/5
Hops: 30sec/1/10
Side Arm Raises: 30sec/1/10
Knee Strikes: 40sec x1x15
FREE
Exercise 2
Side-to-side Single Leg Hop: 30sec/1/10
Raised Arm Circles: 30sec/1/10
Reverse Lunges: 20sec x1x15
FREE
Exercise 3
Half Jacks: 30sec/1/10
Speed Bag Punches: 30sec/1/10
Exercise 3
FREE
Exercise 4
Side-to-side Hop: 30sec/1/10
Overhead Punches: 30sec/1/10
Exercise 4
FREE
---
30 DAY ADVANCE HIGH INTENSITY INTERVAL TRAINING CHALLENGE

 

D9 –

Double Burn

 

✅

D10

 –

Blade Runner 

✅

D11

 –

Move It Move It 

✅

D12 –

 Total Burn 

✅

FREE
Jumping Jacks: 30sec x 2 x 10
High Knees: 80sec x 1 x 12
Lunge Step Ups: 20s/1/10
Side Leg Raises: 40sec x1x10
FREE
Plank Jacks: 30sec x 2 x 10
Exercise 2
Butt Kicks: 20s/1/10
Knee Strikes: 20sec x1x10
FREE
Exercise 3
Exercise 3

Cross

Climbers

:20s/1/10
Exercise 3
FREE
Exercise 4
Exercise 4
Exercise 4
Exercise 4
FREE
---
30 DAY ADVANCE HIGH INTENSITY INTERVAL TRAINING CHALLENGE

 

D5 –

Burn Baby Burn

 

✅

D6

 –

Fireworks 

✅

D7

 –

Power Burn 

✅

D8

–

 Hot Landing 

FREE
Burpees: 20sec x 3 x 5
Jumping Jacks: 20sec x 1 x 10
Push-ups: 6 x 2 x 10
Squats: 20sec x1x10
FREE
Burpees: 40sec x 3 x 5
Jumping Lunges: 20sec x 1 x 10
Punches: 20sec x 6 x 10
Jump Squats: 10sec x1x10
FREE
Exercise 3
Exercise 3
Exercise 3
Exercise 3
FREE
Exercise 4
Exercise 4
Exercise 4
Exercise 4
FREE