Home » Fitness
PHASE 3: 30-Day Adv HIIT Challenge – Completed!!!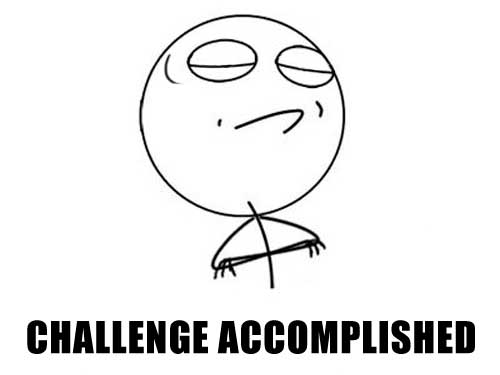 Narrative: (Duration – 51:26 mins) →  My Run Log
Really great way to end my 30 day challenge.  After a pretty intense day yesterday, today was ending on an intense and measured workout.  Specifics: Did Need for Speed HIIT movements as indicated below (21:00 mins).  Afterwards, I moved to 30 mins on the Elliptical – 19° incline/80-90SPM/Level 2.   Motivational music – My RockMyRun weekly suggestion sent me this new mix Twerk Out (RockMyRun).   It was ok, although there are better ones that already have in my repertoire.  At any rate it worked for this workout, so I will have to see if I will use it again.  Scroll down below to check it out.
Summary:
It was really an enjoyable albeit challenging 30 days of working to a successful end.  I pretty much met all my wickets for this phase; see the "Statistic Metric" below.   Looking forward to starting next phase in 2 weeks or earlier.  Good livin'…lean forward and keep movin'.
MEAL PLAN
1

 

2

 

3 
 4 
DAY 30
Curry Chicken 

✅

Yogurt 

✅

Curry Chicken 

✅

Whoopie Cookies
30 DAY ADVANCE HIGH INTENSITY INTERVAL TRAINING CHALLENGE
 D29 –

Burn Baby Burn

  
D30 –

Need for Speed  

Rest

Rest

Rest

Burpees: 180sec/1/5 

✅

Knees Strikes: 20sec/1/10
Rest
Rest
Rest
Exercise 2
Lunge Step-Ups: 20sec/1/10
Rest
Rest
Rest
Exercise 3
High Knees: 20sec/1/10
Rest
Rest
Rest
Exercise 4
Exercise 4
Rest
Rest4
Rest
---
---
METRICS
Cardio  (Elliptical/Treadmill): 30 mins
Intensity (1-10) [159 = 85%; 183 = 100%]: 7.0 
Total Calories: 1658
GOAL STATISTICS
Weight (Day 1, 15, 30): 186.4 LBS; 181.4 LBS ; 178.7 LBS   (Net Loss – 7.7 LBS)
Total Distance: 103.20 (97.49 + 5.71) miles (Goal 90 / + 13.20 over)
Total Calories: 53,331 (51,673 + 1658) (Goal 37,000/ +16,331 )
WORKOUT MIX OF THE DAY–
The Twerk Out (RockMyRun) – Stop automated music at bottom of browser and "play it below"
WARNING: IF YOU ARE A MINOR (UNDER 18 IN MOST STATE) DO NOT GO ANY FURTHER.  ALSO, IF YOU ARE OFFENDED BY EXPLICIT LYRICS, STAY AWAY – OTHERWISE GO AHEAD…ENJOY! 
The Twerk Out

Various

44:19

Hustle Hard

Various

1:04:00

Club Cardio Summer

Various

2:00:49

Blazin (RockMyRun)

Various

1:00:22

Super Twerk (RockMyRun)

Various

02:00:49

Workout Madness 3 (HipHop MegaMix)

Various

01:49:14

Workout Madness 4 (HipHop MegaMix)

Various

01:29:21

Workout Madness 5 ( HipHop MegaMix)

Various

01:03:03

Workout Madness 6 (HipHop MegaMix)

Various

01:49:51

Workout Madness 7 (HipHop MegaMix)

Various

01:27:59

Guru's Jazzmatazz Vol. 1 (Experimal Fusion)

Baldhead Slick

44:15

Guru's Jazzmatazz Vol. 2 (The New Reality)

Baldhead Slick

71:59

Guru's Jazzmatazz Vol. 3 (Streetsoul).mp3

Guru - Baldhead Slick

62:32

Guru's Jazzmatazz Vol. 4 (Jazz Messenger)

Guru - Baldhead Slick

56:02
---
30 DAY ADVANCE HIGH INTENSITY INTERVAL TRAINING CHALLENGE
 D25 –

1&1 Workout

  

✅

D26 –

Jacks 

✅

D27 –

Power Burn

 

✅

D28 – 

Another Hot Landing

 
FREE
Fly Steps: 60sec/1/3
Jacks: 120sec/1/10
Push-ups: 4 x 2 x 10
Squats: 20sec x1x15
FREE
Toe Tap Hops: 60sec/1/3
Exercise 2
Punches: 40sec x 6 x 10
Jumping Squats: 20sec x1x15
FREE
Lunge Step Up: 60sec/1/3
Exercise 3
Exercise 3
Exercise 3
FREE
High Knees: 60sec/1/3
Exercise 4
Exercise 4
Exercise 4
FREE
---
30 DAY ADVANCE HIGH INTENSITY INTERVAL TRAINING CHALLENGE
 D21 –

Skier

 ✅
D22 –

Rocky 

✅
D23 –

Power Burn 

 
D24 – 

Total Burn

 
FREE
Skiers: 30sec/1/10
Jab + Jab + Cross: 180sec/1/10
High Knees: 30sec/2/10
Side Leg Raises: 30sec x1x15
FREE
Skier Hops: 30sec/1/10
Exercise 2
Jumping Lunges: 30&15sec/2/10
Speed Bag Punches: 30sec x1x15
FREE
Reverse Skier Lunges: 30sec/1/10
Exercise 3
Exercise 3
Exercise 3
FREE
Skier Half Jacks: 30sec/1/10
Exercise 4
Exercise 4
Exercise 4
FREE
---
30 DAY ADVANCE HIGH INTENSITY INTERVAL TRAINING CHALLENGE

 

D17 –

Shredder

 

✅

D18

 –

Combo HIIT 

✅

D19

 –

Power Burn 

 

✅

D20 –

 Total Burn

 

✅

FREE
High Knees: 20sec/1/10
Toe Tap Hop: 40sec/1/10
Push Ups: 4sec/2/10
Side Leg Raises: 40sec x1x15
FREE
Climbers: 20sec/1/10
Speed Skater Slide: 40sec/1/10
Side Arm Raises: 60sec/1/10
Side-to-Side Chops: 20sec x1x15
FREE
Basic Burpees:20sec/1/10
Exercise 3
Raised Arm Circles: 60sec/1/10
Exercise 3
FREE
Exercise 4
Exercise 4
Exercise 4
Exercise 4
FREE
---
30 DAY ADVANCE HIGH INTENSITY INTERVAL TRAINING CHALLENGE
D13 –

Burn Baby Burn

 

✅

D14

 –

Hopper 

✅

D15

 –

Flappy Bird 

✅

D16 –

 Stepper 

✅

FREE
Jumping Jacks:180sec/1/5
Hops: 30sec/1/10
Side Arm Raises: 30sec/1/10
Knee Strikes: 40sec x1x15
FREE
Exercise 2
Side-to-side Single Leg Hop: 30sec/1/10
Raised Arm Circles: 30sec/1/10
Reverse Lunges: 20sec x1x15
FREE
Exercise 3
Half Jacks: 30sec/1/10
Speed Bag Punches: 30sec/1/10
Exercise 3
FREE
Exercise 4
Side-to-side Hop: 30sec/1/10
Overhead Punches: 30sec/1/10
Exercise 4
FREE
---
30 DAY ADVANCE HIGH INTENSITY INTERVAL TRAINING CHALLENGE

 

D9 –

Double Burn

 

✅

D10

 –

Blade Runner 

✅

D11

 –

Move It Move It 

✅

D12 –

 Total Burn 

✅

FREE
Jumping Jacks: 30sec x 2 x 10
High Knees: 80sec x 1 x 12
Lunge Step Ups: 20s/1/10
Side Leg Raises: 40sec x1x10
FREE
Plank Jacks: 30sec x 2 x 10
Exercise 2
Butt Kicks: 20s/1/10
Knee Strikes: 20sec x1x10
FREE
Exercise 3
Exercise 3

Cross

Climbers

:20s/1/10
Exercise 3
FREE
Exercise 4
Exercise 4
Exercise 4
Exercise 4
FREE
---
30 DAY ADVANCE HIGH INTENSITY INTERVAL TRAINING CHALLENGE

 

D5 –

Burn Baby Burn

 

✅

D6

 –

Fireworks 

✅

D7

 –

Power Burn 

✅

D8

–

 Hot Landing 

FREE
Burpees: 20sec x 3 x 5
Jumping Jacks: 20sec x 1 x 10
Push-ups: 6 x 2 x 10
Squats: 20sec x1x10
FREE
Burpees: 40sec x 3 x 5
Jumping Lunges: 20sec x 1 x 10
Punches: 20sec x 6 x 10
Jump Squats: 10sec x1x10
FREE
Exercise 3
Exercise 3
Exercise 3
Exercise 3
FREE
Exercise 4
Exercise 4
Exercise 4
Exercise 4
FREE