Home » philosophy-religion
Magician Penn Jillette Says 'God, No!' To Religion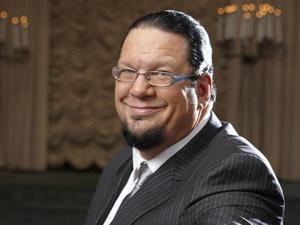 Even if you believe in God, you might still be atheist. That's what Penn Jillette argues in his new book God, No! Signs You May Already Be an Atheist and Other Magical Tales.
The louder half of the magician duo Penn & Teller — of Showtime's Pen & Teller: Bull – – – –— frames his new book as the atheist's Ten Commandments. In it, he wanders from rants about the war on drugs to stories of eating shellfish and bacon cheeseburgers with Hasidic Jews.
Continue reading by click source link below….
My Comments:
Pretty interesting piece; I think I will take the book for a spin. Â I for one don't necessarily believe in religion in its organized fashion. Â I also don't necessarily believe that we are here on this rock in the middle of the universe by accident. Â I believe to be an atheist, one has to be presumptuous, arrogant and not to mention ignorant. Â I think it fine to say – dammit…I just don't know.
Source: NPR