Home » Inspiration, Workout Log
1 Step Back, 2 Steps Forward
— By Mike Kramer, Staff Writer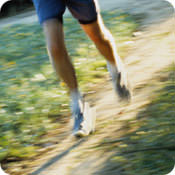 In tennis, losing one point isn't the end of the world. It happens to the best of them. In fact, if you can consistently win a few more points that you lose, you may end up in the hall of fame. With healthy eating and exercising, as long as you're consistently out-stepping your steps back, you're ahead of the game. If you expect perfection (and many of us do), you're setting yourself up for disappointment and guilt.
Guilt can be debilitating to your healthy habits. When you mess up (or even when things are messed up for you), it's natural to feel guilty. At that point, you have a choice: to let that guilt plummet you into a cycle that could spit you out worse off than before, or to accept the step back and say "where do I go from here?"
Of course, consistent success is still something to strive for. You don't want to roller-coaster up and down. That's an "old" habit, remember? And the 1Step/2Step strategy doesn't lessen the need to do your best. You should still work hard to keep those steps back from happening. But it helps to be prepared with a plan and a positive attitude for when they do happen.
Many times, this means a rededication, a refocusing, and a recommitment. You might want to look at your program and see why it's allowing those landmines to stick around. Use it as a learning process. Ask how you can keep that misstep from happening again.
Take a walk in the woods to clear your head and regroup.
Have a personal "bounce back" motto that will re-energize you. Put it everywhere.
Take a break if you think you're trying too hard.
Return to the basics. Are you making it too complicated and tough on yourself?
Plan ahead for irregularities in your schedule, call ahead to healthy restaurants, pack healthy snacks.
Stay aware of what you're doing. One meal mess up can turn into a one day mess up, a one week mess up if you're not careful.
Remind yourself of your success so far when you need a boost.
Unlike people who run 10 miles today because they should have run two yesterday, "2 Steps Forward" doesn't necessarily mean doing a lot more to make up for a blunder. Just make a commitment to do things as right as possible as much as you can.