Home » Mad Musings, what the...?
Somalis Flee Drought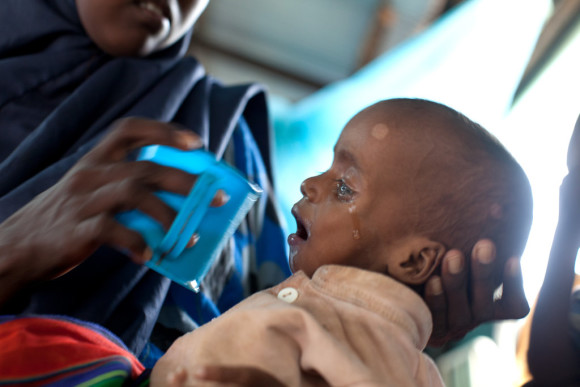 DADAAB, Kenya — The people start trudging in at dawn, more than a thousand every day, exhausted, sick and starving, materializing out of the thin desert air to take their places at the gates of the world's largest refugee camp, here in northern Kenya.They are fleeing one of the worst droughts in Somalia in 60 years and many have walked for weeks through an anarchic landscape replete with bandits and militants but little food.By the time they get here, many can barely stand or talk or swallow. Some mothers have even shown up with the bodies of shriveled babies strapped to their backs.   Click HERE to read the rest of this article  and click HERE to view slide show
My Comments:
Too much hunger…too much poverty only made worse by stupid men fighting mindless war for some dumb cause. Â The disturbing thing about this picture is that this mother…this women without a name to me is reaching put for a bowl, as she hold the listless body of her helpless infant in her arms. Â I can imagine the father of this infant off at some distant place, probably fighting for some god, his faith or some other cause, while his kid suffers. Â Why is it that we burden our women with such heavy labor of body and mind. Â We call ourselves men…but we are nothing but mere fools. Â If the meek shall inherit the earth, I guess very few of us men will have his inheritance.