Home » Computing
Guard Against Cyberattacks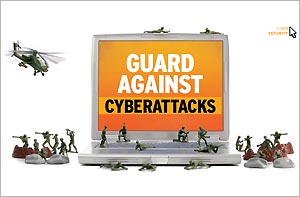 25,000 complaints. That's the number the FBI-affiliated Internet Crime Complaint Center registers each month. Whether it's identity theft, financial fraud or outright scams, we are all potential victims. So what can you do? Gary McAlum, USAA's chief security officer, offers five tips.
Build a Wall
The holy trinity of computer security is a firewall, anti-malware software and automatic updates. Chances are you have all of these installed on your machine. Modern computers and routers have firewalls built in, and you can download an anti-malware program online, but whichever one you choose, be sure to keep it up-to-date. (USAA offers a discount for the McAfee® security suite, and numerous free options are available, but beware of "look-alike" programs that can actually harm your computer.) Finally, keep all your applications and your operating system secure by installing updates.
Continue reading by clicking source link below…
My Comments:
Pretty good computing advice from USAA. Â They just upped their cyber guard program…pretty good.
Source: USAAÂ