Home » Health-Wellness-Sex, Inspiration
Does 35lbs Lighter Makes A Difference?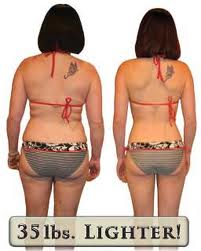 I ran across this image a few days ago while looking for a feature image for a posting here at my site. Â I was simply amazed to see the difference that the form of body can play upon the eyes. Â Now, the before picture seen in isolation would probably not come across as too much out of the ordinary. Â For some, it would be – heh! she has a few folds, slightly on the heavy side, but not bad.
When placed next to the more toned body, the differences teases the eyes a bit more and does highlight a more improve shape that ultimately is a bit more pleasing to look at.
am just sayin'!